28th Baltic Ballet Festival opens with charity concert at Origo Shopping Centre
04.October, 2023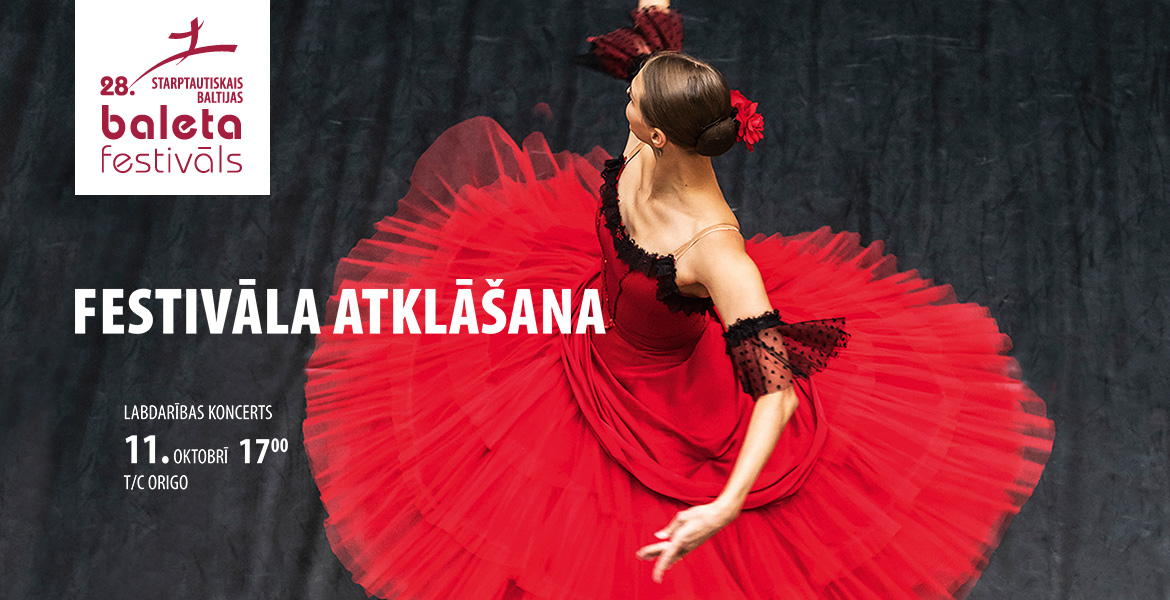 The 28th International Baltic Ballet Festival will take place in October 2023 and January 2024, as always offering amazing and exciting performances and events.
Traditionally, these will be shown in Riga, Preiļi Municipality Culture Centre, the Latgale Embassy GORS and the concert hall Cēsis. For the first time, the festival will also present the transnational project Baltic Ballet Tandem, featuring Latvian, Lithuanian, Estonian and Ukrainian national ballet stars, which will be staged at the VEF Culture Palace on 22 January 2024.
On 11 October at 17:00, the traditional opening charity concert will take place at Origo Shopping Centre.
On 6 October at 17:00, the exhibition Dance – Four Arts will open at the Mentzendorff House.
On 20 October at 20:00, Splendid Palace cinema will screen Swan Lake by Tommy Pascal (France).
On 21 October at the Preiļi Municipality Culture Centre and on 23 October at 19:00 at the New Hall of the Latvian National Opera, the modern ballet company Quorum Ballet (Portugal) will perform Correr o Fado. "Fado is the most representative form of traditional Portuguese culture. Through a variety of movements, sounds, sensations and feelings, the dancers convey to us their art and the beauty that our hearts perceive and feel. By combining fado with contemporary dance, Correr o Fado breaks the traditional way of seeing, hearing and feeling fado," say the artists about the performance. Quorum Ballet is a contemporary dance company founded in 2005 by its artistic director, principal choreographer and dancer Daniel Cardoso.
On 26 October, eVolution Dance Theater (Italy, Rome) will perform Blu Infinito for the first time in Latvia and the Baltics at the concert hall Cēsis, on 28 October at the Latgale Embassy GORS and on 30 October at the VEF Culture Palace. The show is said to be "an innovative and exciting combination of dance, art, acrobatics, magic and illusion. Water flows, dances and cascades in a miraculous journey. The use of technology and its connection to the performance of the group's versatile artists (dancers, gymnasts, illusionists, acrobats, athletes) is the distinctive element of eVolution Dance Theatre. The combination of lasers and mirrors, reflections, refractions, chemical screens that react with and capture light, create worlds where the shadows of the dancers transcend the corporeal and merge with the luminous." The dance company eVolution Dance Theater was founded by American choreographer and dancer Anthony Heinl, who is also the company's artistic director. eVolution Dance Theater is a fusion of modern dance, acrobatics and innovative technology.
On 22 January 2024, the VEF Culture Palace will host the transnational dance project Baltic Ballet Tandem, featuring ballet stars from Estonia, Lithuania, Latvia and Ukraine. Ballet motifs "From classical to avant-garde" by the most outstanding choreographers and dancers from the Baltics and Ukraine will be presented to the audience. Information about the ballet festival – programme (ballet-festival.lv)
‹ Events archive