Riga Technical University presents the development of 3D technologies at Origo Shopping Centre
10.October, 2023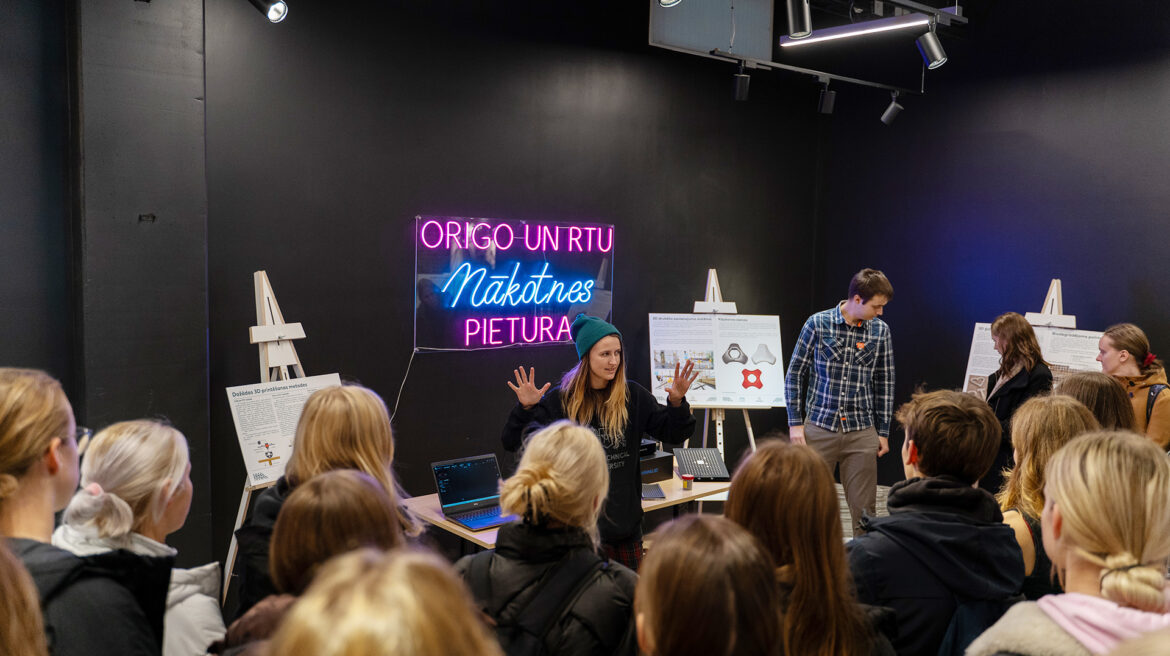 3D printed houses, objects or human body parts are turning from science fiction to reality thanks to research and development. On 10 October at 11:00, an exhibition dedicated to the development of 3D technologies and the achievements of Latvian scientists was opened in the innovation and scientific achievements exhibition space RTU and Origo Future Stop.
RTU and Origo Future Stop is located on the second floor of the new Origo shopping centre, Stacijas laukums 4.
"Scientists are changing the way the world works in the name of sustainable development by creating new technological solutions that make it easier for people to work in all kinds of industries and improve their quality of life. Technology and innovation are a key part of Origo's sustainability strategy and are integrated into the daily work processes, providing environmentally friendly and sustainable solutions for visitors. In the exhibition space Future Stop, visitors can also get acquainted with the latest innovation solutions created by Riga Technical University (RTU) specialists here in Latvia. Science is definitely the driving force of the future, which is vividly demonstrated by the innovation solutions created by our own scientists, which are appreciated in many parts of the world," says Evija Majevska, Commercial Director of Linstow Baltic and Origo multifunctional centre.
The exhibition reveals step by step the 3D printing process and the methods used, illustrating it with various objects and figurines created at the RTU Science and Innovation Centre Design Factory, and it also shows various innovations in this field. A bio-based ink for 3D printers, based on various vegetable oils, developed by researchers from the Faculty of Materials Science and Applied Chemistry at RTU, can be seen. Most of the polymer materials that can currently be used in 3D printers are based on petroleum products.
In the exhibition room, you can also learn about 3D concrete printing and see objects that have already been printed. This innovative scientific and technological development is growing rapidly around the world because it is sustainable, makes efficient use of human resources and materials, and enables the creation of building blocks of almost any shape, size and structure. Scientists of the RTU Faculty of Civil Engineering are developing building materials suitable for 3D printing with reduced environmental impact, such as concrete with cement partially replaced by ash from power plants, mortars with hemp as biological fillers and hybrid mortars made from recycled gypsum, cement and pozzolana. The scientists are carrying out their research in the first 3D concrete printing laboratory in the Baltics, set up by RTU in cooperation with Sakret, the largest producer of dry and ready-mix concrete in the Baltics.
As a proof of the limitless possibilities of 3D technologies, an underwater drone built by RTU students for various survey and rescue operations in Latvian climatic conditions is also on display. The body of the drone is printed. The 3D printed connection system – a robust three-dimensional network – created by the students can be used as a base for various constructions for tourism, leisure, marketing or trade purposes. A prototype climbing wall, built by the students on a free-standing concrete structure printed with individually designed holds, will also serve sports and leisure purposes. Both of these objects will also be on display in the exhibition.
The Innovation and Scientific Achievements Exhibition Space RTU and Origo Future Stop was created in cooperation with Origo shopping centre to introduce the general public to the latest technological solutions, scientific discoveries, and achievements of RTU students, engineers and scientists.
‹ Events archive