Art and Architecture Photo Exhibition "Structures of the Century in Latvia" opens in the square in front of Origo Shopping Centre
12.January, 2023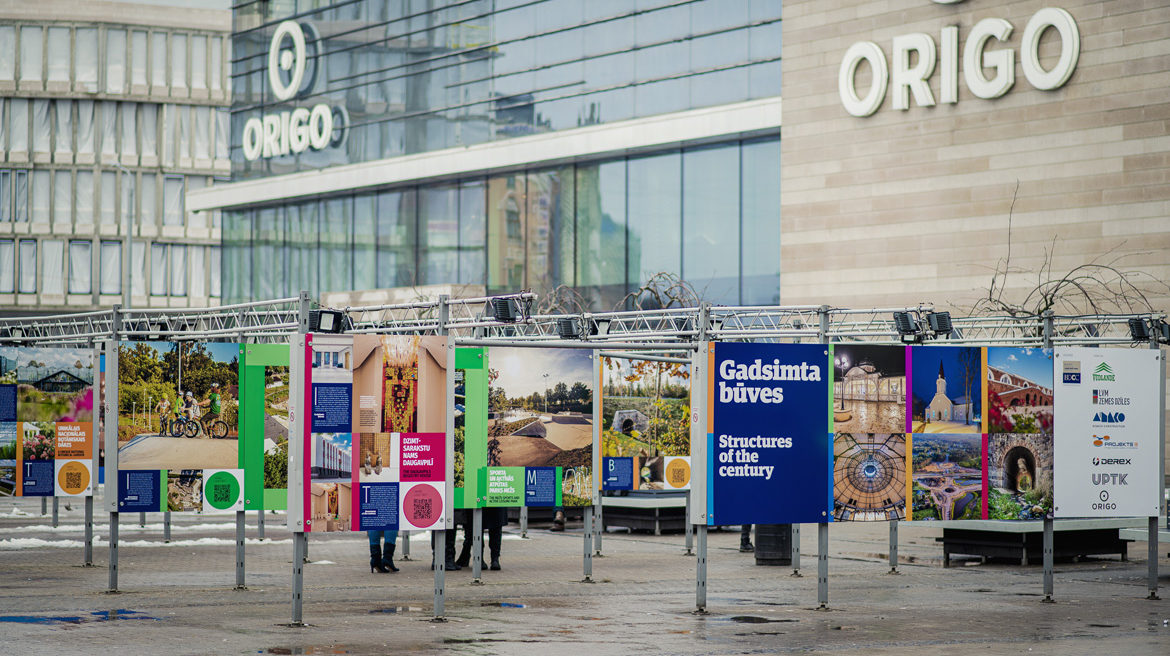 Since 11 January, the large-format travelling photo exhibition "Structures of the Century in Latvia" by the Building Design and Construction Council (BDCC) has been on display in the square in front of Origo Shopping Centre, showcasing the works of architects and engineers in Latvia that have been praised for their performance and sustainability solutions. The location of the travelling exhibition is significant – next to the Origo multifunctional centre, which is recognised as an example of sustainable modern construction.
The large-scale open-air photo exhibition in the square in front of Origo Shopping Centre is a unique urban object that can be viewed at any time of the day and is free of charge for everyone.
Gunita Jansone, Head of BDCC: "The name "Structures of the Century in Latvia" was chosen to indicate the importance of the implemented projects in Latvia. The exhibition features photographs of architectural and engineering achievements: the Treasure House in Rēzekne, the Park Pavilion in Liepāja, the renovated Smiltene Church, as well as important infrastructure solutions – the Ķekava bypass, the Sarkandaugava overpass and the Eastern motorway. Many of these projects have won awards in the largest construction competition "Annual Latvian Construction Award" and other competitions such as "Sustainability in Architecture, Construction, Design".
"The exhibition "Structures of the Century in Latvia" opens at the starting point of the Riga of the future. With the rapid development of the Riga Central Station area, one of the key elements of its modern urban environment is Origo multifunctional centre. We are delighted that the 450m2 large-format open-air exhibition space, a gift from Linstow Baltic to the city and the community, has been attracting art lovers since 2014. The exhibition of the best examples of Latvian architecture collected by BDCC has now become an annual tradition at Origo. Visitors are also invited to appreciate the Origo multifunctional centre as an example of modern architecture that organically and harmoniously fits into the urban landscape, respecting the requirements of universal design and environmental accessibility," says Evija Majevska, Commercial Director of Linstow Baltic and Origo Shopping Centre, emphasising the importance of cooperation with BDCC.
The travelling exhibition is organised by the Building Design and Construction Council already for the seventh year. It showcases Latvia's latest architectural success stories, innovations in the global context, engineering structures, examples of private initiatives, fine restoration works, as well as interiors of universal design. QR codes are integrated into the exhibition stands, giving visitors the opportunity to learn more about each object.
The exhibition is supported by AIDACO, LVM Zemes dzīles, Vudlande, Derex, Projekts 3, UPTK, ORIGO.
Photos from the exhibition and opening event: Renārs Koris
More information:
www.buvniekupadome.lv
‹ Events archive