Department of Design of the Art Academy of Latvia opens its graduate exhibition in the square in front of Origo
01.July, 2022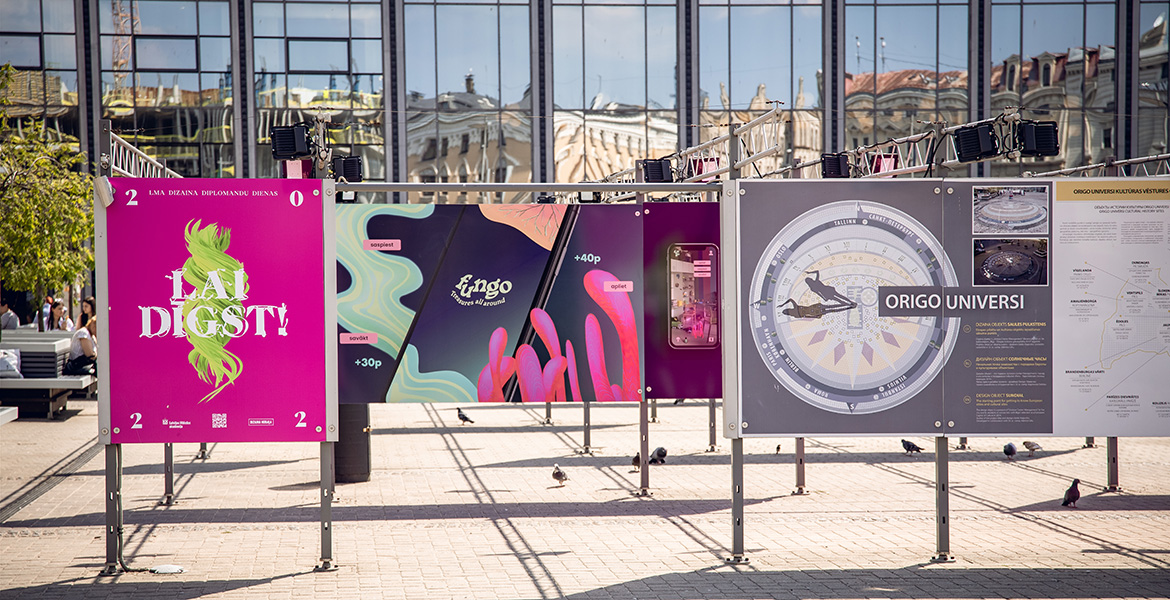 From Monday, 20 June, an exhibition of works by students of the Design Department of the Art Academy of Latvia (AAL) is displayed in the square in front of Origo Shopping Centre. It is a part of AAL's graduate exhibition "Lai dīgst!" ("Let it sprout!"). The graduate exhibition is organised as a milestone for the achievements during the study process and as a way of presenting fresh, creative ideas and their solutions to the public for evaluation.
The large-format outdoor photo exhibition in the square in front of Origo is a unique, 24/7 illuminated urban object, which can be visited and viewed free of charge by everyone throughout the year. The 450 square metre large-format urban exhibition space is Linstow Baltic's contribution to making public space available for art.
"Various circumstances have had a significant impact on the study process, but at no stage has the creative, intellectual and academic spirit ceased to "sprout" — this is a process that has been fundamental to the work of the Design Department throughout its 60 years of existence. We want to demonstrate to the public that modern, technology-driven art movements exist alongside classical art forms. For the exhibition at Origo, we have selected works from interior, graphic, product, metal and fashion design specialities, which broadly cover the possibilities of modern design and encourage the viewers to think about the role and challenges of design today. Health, environmental accessibility, social integration, sustainability – these are the current global and local challenges that design and art are addressing," says Maija Rozenfelde, Head of the AAL Design Department.
The large-format outdoor exhibition in the square in front of the Origo Shopping Centre offers various exhibitions throughout the year, which can be viewed free of charge 24/7. The 450 square metre outdoor photo gallery, illuminated at night, is the only one of its kind in Riga. So far, several important photo exhibitions have been displayed to all culture and art lovers free of charge: "#Džemma90", "Photography Award of the Year" and "Times Change, Jazz Remains. Jazz in Latvia" and others. In 2022, the large-format outdoor gallery hosted the exhibition "The Power of Detail", dedicated to Latvian construction and architecture.
The exhibition will be on display until the end of August.
The following works can be seen in the outdoor exhibition in front of Origo Shopping Centre:
INTERIOR DESIGN
Monta Circene, environmental accessibility solutions in the ruins of Veckalsnava Church
Darja Mirska, interior design project "Space for Mental Health"
GRAPHIC DESIGN
Kristaps Šulcs, interactive object "Self-harm – protest"
Rimants Šveicars, printed publication "Progress – Documentary Publication Design"
Luīza Jansone, board game "Sound Detectives – an Educational Game for Children with Speech Disorders"
Dārta Galiņa, Ričards Znutiņš-Znutāns, Džūlija Ekuse, Sandra Sugako, mobile app prototype "EMORI Emotion Self-regulation Mobile App"
PRODUCT DESIGN
Keita Augstkalne, "Fungo", a motion-facilitating augmented reality mobile game for adolescent patients at the Children's Clinical University Hospital
Luīze Mihailova, jewellery display "Ooze"
METAL DESIGN
Līva Kubulniece, jewellery collection "Collector's Adrenaline"
FASHION DESIGN Elīna Grīnberga, clothing collection "Unfinished"
‹ Events archive