A photo exhibition about the daily life of service dogs was opened
11.August, 2023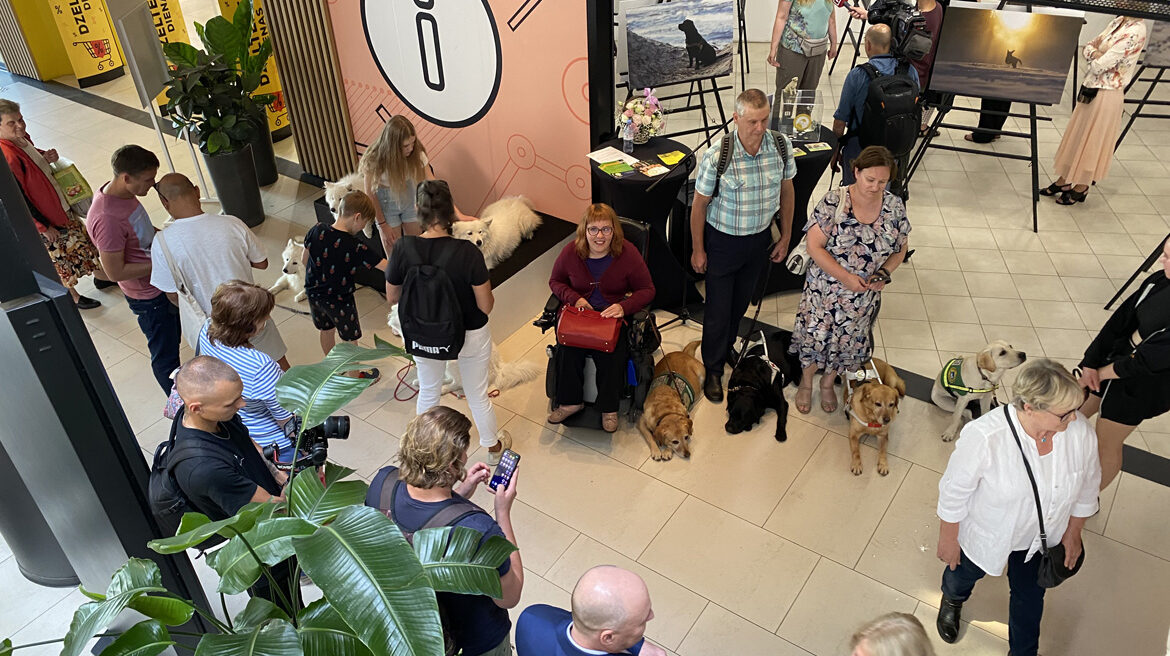 Service dogs are friends, helpers and companions who accompany their owners during the day, helping them to integrate into society. Since 2013, the Service Dog Association TEODORS has been supporting people with special needs by promoting the development of the service dog movement in Latvia. To inform the general public about this mission, a photo exhibition Service Dogs – at Work and at Play will be opened on 14 August at 13:00 in the new building of Origo Shopping Centre. The opening event will feature several service dogs and their owners, who will talk openly about their daily lives with these special friends.
The photo exhibition Service Dogs – at Work and at Play gives an insight into the leisure activities and mission of TEODORS service dogs, showing the public the true meaning of the work of these trained dogs who help people with disabilities to successfully integrate into society and participate in various aspects of life, reduce prejudice and promote a more active dialogue between different groups in society. The exhibition was initially created in collaboration with photographer Valters Poļakovs, but later other photographers' images were also added. The photo exhibition is a beautiful proof that a service dog is a happy dog who is with his owner 24 hours a day. And not only working on their mission, but also relaxing and making each other truly happy!
The location of the photo exhibition has been chosen deliberately, as environmental accessibility, an inclusive society and the reduction of inequalities are important sustainability and strategic development directions of Origo Shopping Centre, which are taken into account when planning the daily work and activities of the shopping centre.
Origo Shopping Centre is easily accessible for people with disabilities and families with small children – there are no thresholds, making it easy to move around with all types of prams, strollers and wheelchairs, and for the convenience of the visually impaired and blind, the corridor floors have special elements or guides with wayfinding signs embedded in the floor surface. The lifts are equipped with voice announcements, and information about floors is provided in Braille both in the lifts and on the handrails of the stairs. The Origo information centre is equipped with an audio induction loop or hearing loop for the hearing impaired.
In addition, for more than a year, the Origo Donation Wall has provided the opportunity to donate to support the TEODORS association, with the funds raised being used for the treatment and upkeep of service dogs.
Everyone is welcome to visit the photo exhibition Service Dogs – at Work and at Play in the new building of Origo Shopping Centre from 14 August to 1 November.
Service dog association TEODORS was founded in 2013 and it was officially confirmed as a public benefit organisation in 2016. The goal of the association is to encourage the full integration of people, including children, with special needs into society with the help of service dogs. One of the main tasks of the association is to encourage the growth of the guide dog and other service dog (therapeutic and assistant) movement in Latvia. To date, 11 service dogs have been trained by the association, of which 10 guide dogs serve people with visual impairments and one assistance dog serves a person with reduced mobility. The association has the status of a public benefit organisation, which operates on the principle of donations and voluntary work. The association is active in informing the public, media and organisations about the mission of service dogs – to help people with disabilities live fuller and more empowered lives. Assistance dogs help people with physical disabilities with everyday tasks – getting dressed, fetching objects, opening doors, switching lights on/off, etc. Guide dogs work with blind and visually impaired people, helping them to move independently in different environments, avoiding obstacles. Therapy dogs are specially trained to help people with various disabilities improve their social skills, physical and emotional well-being. The dog acts as a motivator and a communication object, which helps people open up and promotes inclusion and well-being. Dog-assisted therapy can be used not only for physical rehabilitation, but also in other ways, such as educational and psychological.
‹ Events archive