The new Origo Gift Card – beautiful surprises for special occasions and for everyday
23.December, 2020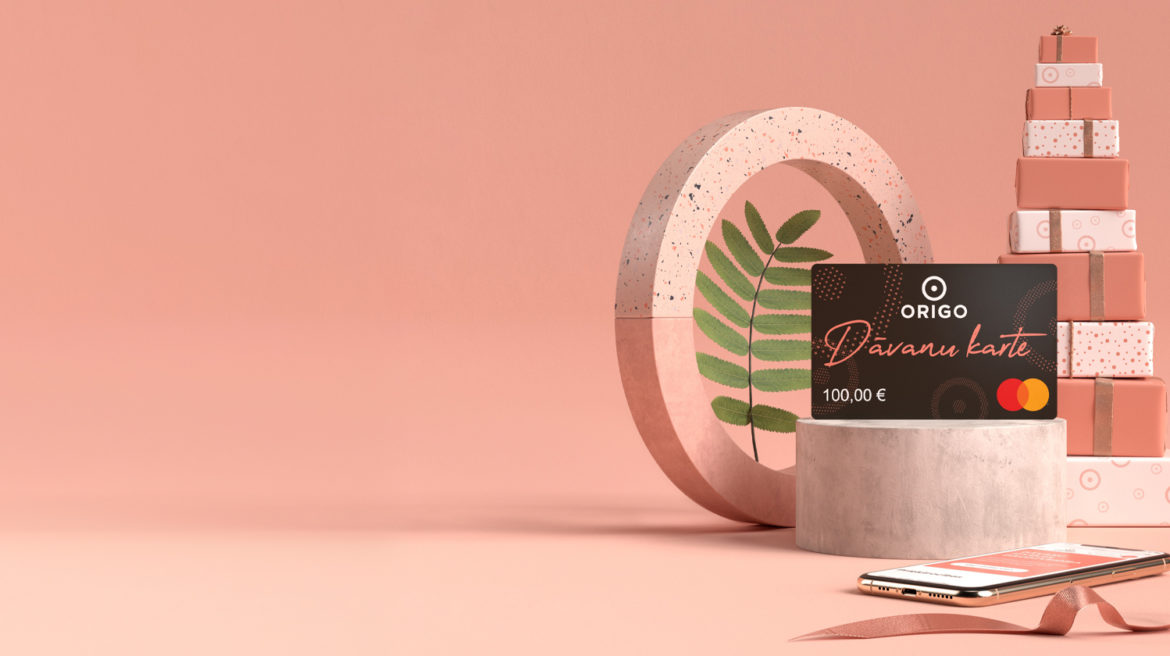 Good to know!
Origo Gift Cards can be purchased by both individuals and legal entities
The gift cards can be purchased at the Information Centre in the shopping centre "Origo" in person or remotely at davanukarte.origo.lv.
Courier and postal delivery are also available options, and the purchased gift cards can be picked up in person, too – in the shopping centre's Information Centre.
There is no commission fee added to the purchase of Origo Gift Cards, and the maximum value of the gift card is 150 euros.
The recipient is free to use the gift card for multiple purchases, choosing goods or services in various shops in the "Origo" shopping centre.
You can specify the exact amount you wish the gift card to cover, and the amount does not need to be rounded, which gives the giver the opportunity for some creativity!
The gift card is valid for 6 months after its issuance.
You will be able to add a personal greeting to the Origo Gift Card and choose the most appropriate wrapping for the gift!
Let's be responsible and protect nature together!
We care about your needs and desires, and we also care about nature! Did you know that the Origo Gift Card is Latvia's first electronic gift card made of recycled PETG plastic – a material that decomposes ten times faster in nature than ordinary PVC cards? The PETG plastic card production and delivery emits ~75% less CO2 than conventional PVC cards.
Since gift cards have a short life cycle, in order to ensure that they do not unnecessarily create more environmentally harmful waste, we encourage you to drop off the used and emptied gift cards at the "Origo" Information Centre.
Make eyes sparkle!
This year, the "Origo" shopping centre has undergone beautiful visual transformations and offers to enjoy shopping in a new quality, in a contemporary and peaceful atmosphere. As the number of shops continues to increase, everyone is able to find something that suits their tastes. Local and international brands, services both to pamper yourself and for the household and a more comfortable daily life – the Origo Gift Card will delight any recipient and maybe even fulfil someone's dream!
Don't worry about getting gifts, with the Origo Gift Card leave the choice in the hands of the recipient!
‹ Events archive